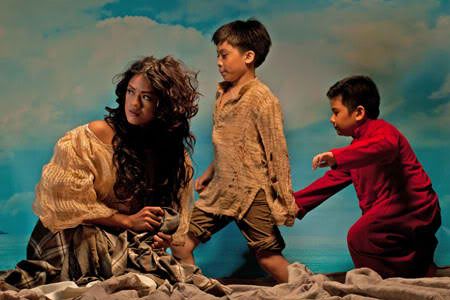 Sisa is the fictional character from Dr. Jose Rizal's Noli me Tangere (Touch me not) written way back in the 1800's. The book was written as a way of protest against the spanish friars in our country. Sisa, one of the popular characters in the book, is a mother of two boys, Basilio and Crispin, and the wife of the abusive gambler Pedro. Sisa is described as a mother who considers her sons her only treasure. She would often anticipate when they return home as she would prepare their favorite dishes. She remembers each son's features and when alone, remember moments when her sons were with her. The children were working as sacristan in the church when apparently, they were accused as thieves and later, they were nowhere to be found. Sisa then succumb to insanity. She roamed about and was recognized by the limping Basilio. As she has not recognized her son, a chase ensued and ended when Basilio fell off the tree to catch his mother. When she finally recognizes her son, Basilio had fainted. When Basilio woke up, Sisa had died.
Today, a lot of mothers are agonizing, crying in pain as they lost their children due to kidnapping. There are news that there are people lurking around searching for women who have newborn babies. They would offer the woman some cash and groceries, and "help" the woman in carrying the child. When the woman is unaware, that's the time the suspect would runaway with the child, leaving the helpless mother alone. Another story also states that there are men in a van who are looking for children playing on the streets. When the children's parents are unaware, they will get the child, ride in the vehicle, and drive away. Based on the police investigation, the kidnapped babies were possibly being sold to couples who have no children. Other children possibly were kidnapped by the syndicates to be made as beggars on the streets.
No one could possibly explain the pain of losing a child except the mother for she carried her child for nine months, showered the child with love and affection, cared for the child, built dreams and aspirations for the child, and of course, because that is her child. A mother, without all the riches in the world will still be rich because of her children's love. She considers them as her treasure, her valuable possession, just like Sisa who've gone insane because her children were taken away.
Credits:
wikipilipinas